Zygoballus rufipes Peckham & Peckham, 1885 - Hammerjawed Jumper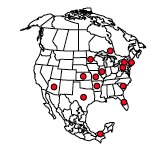 The three Zygoballus species seen here are similar in appearance and in a few areas have overlapping ranges. Working with macro images and/or the spiders themselves (in-hand) will increase the odds that you will solve the Zygoballus Identification puzzle. The general shape of the cephalothorax and some details of leg 1 are characteristics shared by Z. nervosus, Z. rufipes, and Z. sexpunctatus. If our goal is species identification we also need to know how each differs from the other two. While no single publication or online source offers a comprehensive treatment of North America salticid identification, a description of each species is likely somewhere on the www. Again, BugGuide is a good starting point. Look also for scholarly publications of "reviews" or "revisions" of specific genera as these often include drawings and descriptions of identfying characteristics. Another useful reference for species identification is Prószyński's salticid website. Part II of the site entitled "Diagnostic Drawings" includes individual species pages with numerous drawings and their sources. For example, Prószyński's page for Z. rufipes includes illustrations of the male's courtship display, the foreleg, and the chelicerae details. The listing of original sources, many of which are available as downloadable PDF files, include references to works with additional details. Prószyński's site may not have recently published references and this is the case for Zygoballus. Wikipedia, however, has a comprehensive series of articles on this genus with identification details.
Prószyński, Salticidae (Araneae) of the World, 2007; Kaldari, R. Wikipedia - Zygoballus species identification.
Massachusetts - First State / County Records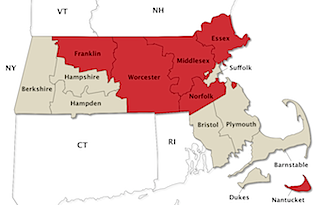 ♦ J. H. Emerton - Z. bettini - Massachusetts - 1891: 230, pl. 17, f. 4
♦ *BSNH- Z. b. - Essex (Beverly) - Bryant, 1908: 103
♦ P. Zephyr- Z. rufipes - Franklin (Montague), June 1969 - BugGuide node 900719
♦ H. W. Levi & L. R. Levi/MCZ - Z.b. - Middlesex (Pepperell), September 2002 - MCZ record #50480
♦ T. Murray - Z. r. - Worcester (Harvard), June 2005 - BugGuide node 19878
♦ B. Maple/MCZ - Z.b. - Nantucket (Squam Swamp), August 2006 - MCZ record #76363
♦ T. Palmer - Z. r. - Norfolk (Walpole), September 2013 - BugGuide node 857077
♦ Connecticut - Z. b. - Kaston, 1948: 467, 14 records
*See Bryant, 1908