Phidippus purpuratus Keyserling, 1885 - Jumping Spider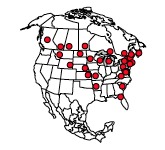 Massachusetts has an enviable tradition with regards to natural history in general and salticid studies in particular. The publications of N. M. Hentz and J. H. Emerton form the foundation for our earliest arachnology records. Emerton was familiar with this species (although see the note below) and more recently Kaston considered the species to be "common" in Connecticut. Edwards cites records from 6 Massachusetts' counties. I have found P. purpuratus to be a difficult species to locate as the spider is restricted to sandy, xeric habitats (where it is well camouflaged) and seems to spend much of its time under rocks and boards.
Kaston, 1981; Edwards pers. comm., 2012
Massachusetts - First State / County Records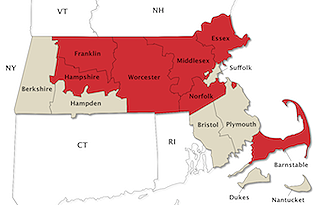 ♦ *BSNH - **Phidippus mystaceus - Norfolk (Blue Hills), Barnstable (Woods Hole), Hampshire (***Mt. Holyoke?), Franklin (Warwick), Essex (Salem), - Bryant, 1908: 98
♦ - P. purpuratus - Middlesex - Edwards, 2004: 94, f. C57-58, 334-339
♦ T. Murray - P. p. - Worcester (Lancaster), May 2012 - BugGuide node 640386
♦ Connecticut - P. p. - Kaston, 1948: 483 Common all over the State.
*See Bryant, 1908.

**Most of the records published by Bryant likely refer to Emerton's records. Although he misidentifies P. purpuratus as P. mystaceus in his initial work on the jumping spiders of New England, Emerton comments there that this species is Common all over New England. (Emerton, 1891: 227, pl. 16, f. 3)

***Bryan't use of Mt. Holyoke is unclear but I am assuming this refers to the area now called Mt. Holyoke Range State Park.

Edwards, G. B. 2004. Revision of the jumping spiders of the genus Phidippus (Araneae: Salticidae). Occasional Papers of the Florida State Collection of Arthropods 11: i-viii, 1-156, 350 figs.