Pelegrina exigua (Banks, 1892) - Jumping Spider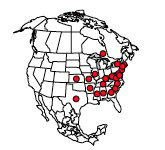 Maddison's 1996 account of Pelegrina exigua makes it clear that exigua has been and is applied to a sometimes confusing "complex" of jumping spiders. Along with exigua x flaviceps hybrids along zones of contact as in Massachusetts (see discussion below), . . . two distinct color forms are found in the south that may very well represent distinct species. These two forms are referred to as "dark" and "striped." While the two are are readily separated by their external anatomical features the genitalia are the same. At the time Maddison published his Pelegrina revision only the dark form was known from some coastal states including New Jersey. The spider shown in the video and in the 2 images in the bottom row of the "Identification" section, however, is the striped form and was found in southern New Jersey. Maxwell's images of a dark form P. exigua from New Jersey are in the top row of the "Identification" section.
Maddison, 2013 pers. comm.
Massachusetts - County Records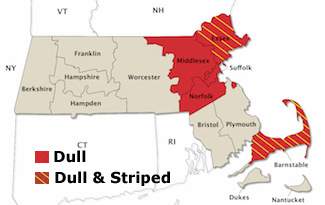 ♦ *MCZ / AMNH - P. e. (Dull form) - Barnstable , Essex - Maddison, 1996: 281, f. 127, 146-149, 203, 243, 329-337, 342
♦ MCZ / AMNH - P. e. (Striped form) - Barnstable, Essex, Middlesex, Norfolk, Suffolk - Maddison, 1996: 281, f. 127, 146-149, 203, 243, 329-337, 342
♦ **Connecticut - P. e. - Maddison, 1996: 281 - 283, Dull form: records from 2 counties
*I have chosen to limit the records shown here for P. exigua to those in Maddison's 1996 revision. Maddison's treatment of P. exigua indicates that most (all?) of the material cited under Records is in either the MCZ or AMNH. The two color forms (dull and striped) described by Maddison are reflected in the records above as well as in the accompanying Massachusetts county map.
**Again, the records summarized here for P. exigua in Connecticut refer to those published in Maddison's 1996 revision. Maddison's synonomy includes the following: Metaphidippus exiguus: - Kaston, 1945: 10. Kaston, 1973: 112, figs. 26-29 ♂ ♀

P. exigua x P. flaviceps Hybrids
Maddison (1996: 278-280) defines the flavipedes group as comprising three species: P. flavipedes, P. flaviceps, and P. exigua ranging from north to south in the order listed. While the range P. flavipedes is north of Massachusetts the two more southerly species occur here in a zone of transition. And at the species level their exact status in Massachusetts along with the possibilities for identification are obscured by a variety of hybrid forms. For example, when Maddison examined a sample of 25 males from Pepperell, Massachusets (Middlesex County) he found four hybrid forms as well as a mixture of courtship behaviors typical of both P. flaviceps and P. exigua in some individuals.

Maddison W. P. 1996. Pelegrina Franganillo and other jumping spiders formerly placed in the genus Metaphidippus (Araneae: Salticidae). Bulletin of the Museum of Comparative Zoology, Harvard 154: 215-368.