Eris flava (Peckham & Peckham, 1888) - Jumping Spider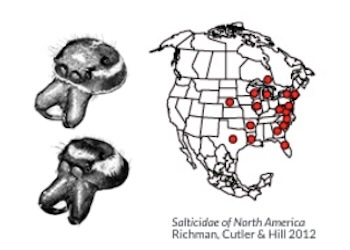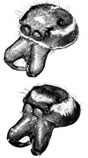 For over half a century two species Eris militaris and E. flava were incorrectly lumped together under the name E. marginata. The proper designations and distinguishing features were clarified by Maddison (1986). The composite illustration at right illustrate how E. flava (top right) typically shows a line of white scales crossing the facial margin and E. militaris (bottom right) has few or no white facial scales. The initial flawed synonomy resulted in both confusion and mistaken identifications and thus many historical citations cannot be evaluated. See additional notes on species and genus pages.
*Massachusetts - First State / County Records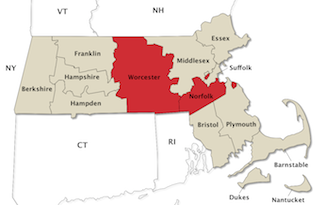 ♦ W. Maddison - E.f. - Massachusetts (cedar swamp), - Maddison, 1986: 148
♦ T. Murray - E.f. - Worcester (Harvard) - May 2004 - PBase
♦ T. Palmer - E.f. - Norfolk (Dedham) - April 2012 - BugGuide, 630431
♦ Connecticut - See references below.
*Records in or after Maddison's 1986 publication.
Maddison, W. P. 1986. Distinguishing the jumping spiders Eris militaris and Eris flava in North America (Araneae: Salticidae). Psyche 93: 141-149; Kaston, B. J. 1973. Four new species of Metaphidippus, with notes on related jumping spiders (Araneae: Salticidae) from the eastern and central United States. Trans. Amer. Micros. Soc., 92: 106―122.